БЕСПЛАТНО
---
Если Вы хотите найти доставка, которые будут максимально совместимы с версией интернет магазина, а так же уделяете внимание качеcтву кода, то предлагаем к просмотру: dhl експресс доставка с накладной, это решение было разработано специально для магазинов, работающих на платформе OpenCart, с поддержкой от нашей компании каждого магазина, работающего на нашей CMS Brocart.
---
---
При скачивании бесплатного дополнения, мы не даем 100% гарантии, что оно будет работать на Вашем магазине, просим быть внимательными к интсрукциям по установке!
---
If you are facing any error or Installation failures, Please Let us know We are happy to Help you.
By Single Click, The Shipping Label & Commercial Invoice get generated By our Extension DHL Express. No need to define anything in order Page.
Displays DHL Live Shipping Rates based on the Shipping Address and Cart Content. Premium supports DHL Label Printing & Tracking.
Looking for the easiest & efficient way to integrate DHL Express with OpenCart shopping cart? Tired of copying and pasting order details just to create a label? Here is the solution!
DHL Shipping Price Calculator:
Get prices for following domestic and international shipping services.
* DOMESTIC EXPRESS 12:00
* B2C
* JETLINE
* SPRINTLINE
* EXPRESS EASY
* EUROPACK
* AUTO REVERSALS
* BREAKBULK EXPRESS
* MEDICAL EXPRESS
* EXPRESS WORLDWIDE
* EXPRESS 9:00
* FREIGHT WORLDWIDE
* DOMESTIC ECONOMY SELECT
* ECONOMY SELECT
* DOMESTIC EXPRESS 9:00
* JUMBO BOX
* EXPRESS 9:00
* EXPRESS 10:30
* EXPRESS 10:30
* DOMESTIC EXPRESS
* DOMESTIC EXPRESS 10:30
* GLOBALMAIL BUSINESS
* SAME DAY
* EXPRESS 12:00
* EUROPACK
* ECONOMY SELECT
* EXPRESS ENVELOPE
* EXPRESS12:00
DHL Shipping extension helps Opencart based stores to streamline DHL Express shipping integration. This extension helps you to get shipping rates from DHL APIs based on product weight, postcode and other relevant details. Based on the postal codes and other parameters, all available shipping services along with the rates are listed for the customers to choose from.
(Click here) Live Demo Links are available here
(Click here) Premium Version
INTEGRATES OPENCART TO DHL EXPRESS
Once DHL Shipping extension is installed and configured with necessary information, your Open Cart Shop will be ready to ship using DHL Express. This extension will add DHL shipping method as one of the shipping methods in Open Cart.
CALCULATE SHIPPING RATES DYNAMICALLY
While checking out, a customer is presented with the available shipping services and the rates based on his/her postal code, product, weight and dimensions. Customer can choose the best method that matches his/her requirements and proceed to payment.

DHL EXPRESS PREMIUM FEATURES:
* Print shipping label with Postage.
* Commercial Invoice.
* Archive Air Waybill.
* Use the paperless trade feature and get a commercial invoice from DHL.

BASIC VERSION SCREENSHOTS
Settings Page

Real TIme rates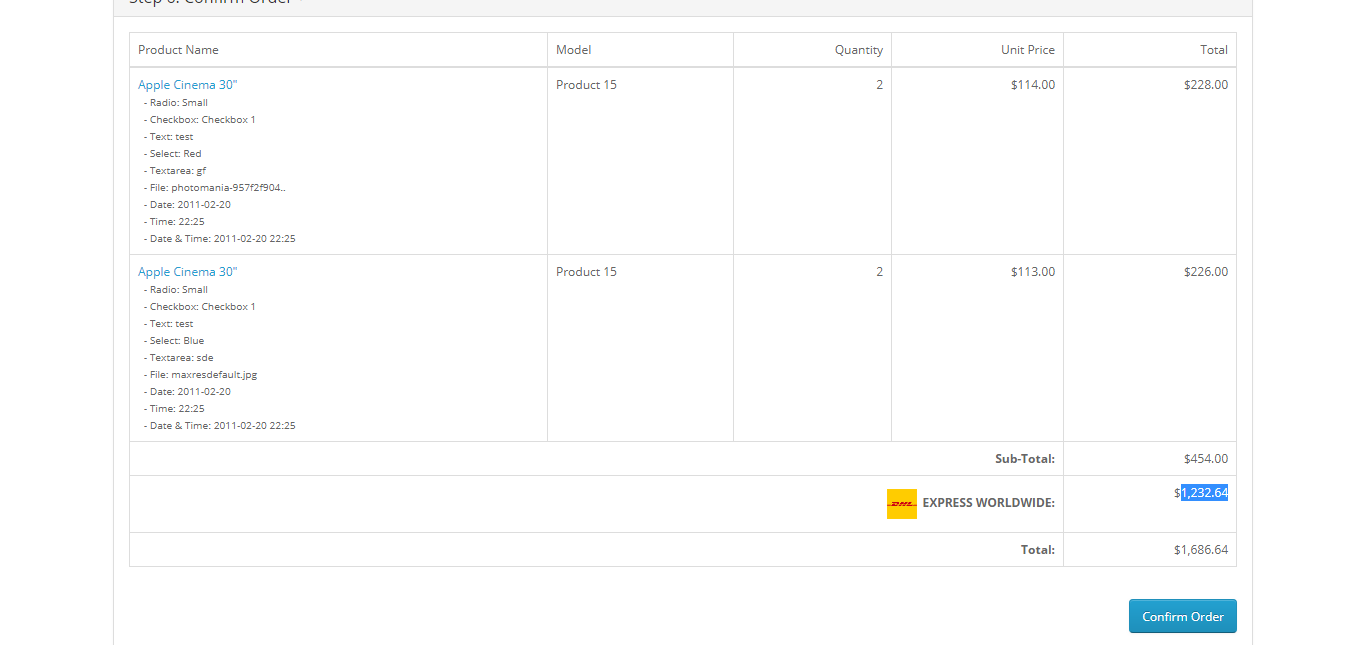 Check out Page Order Table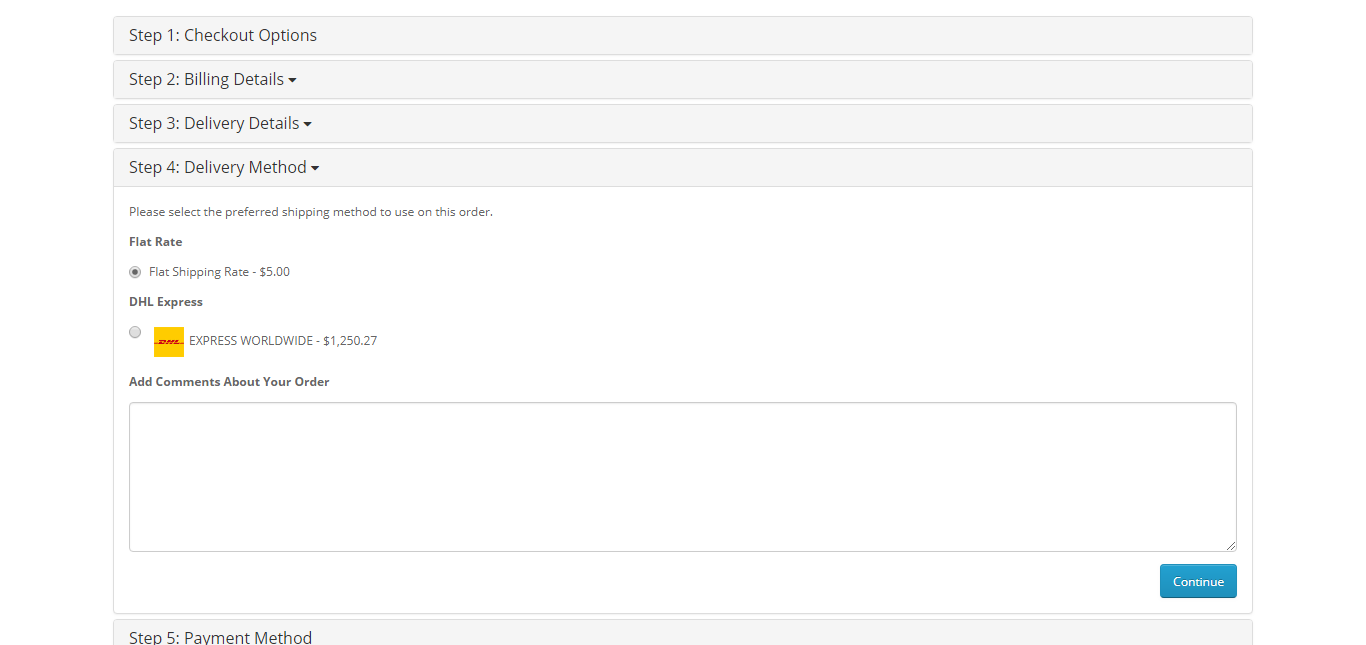 PREMIUM VERSION SCREENSHOTS
Shipping Label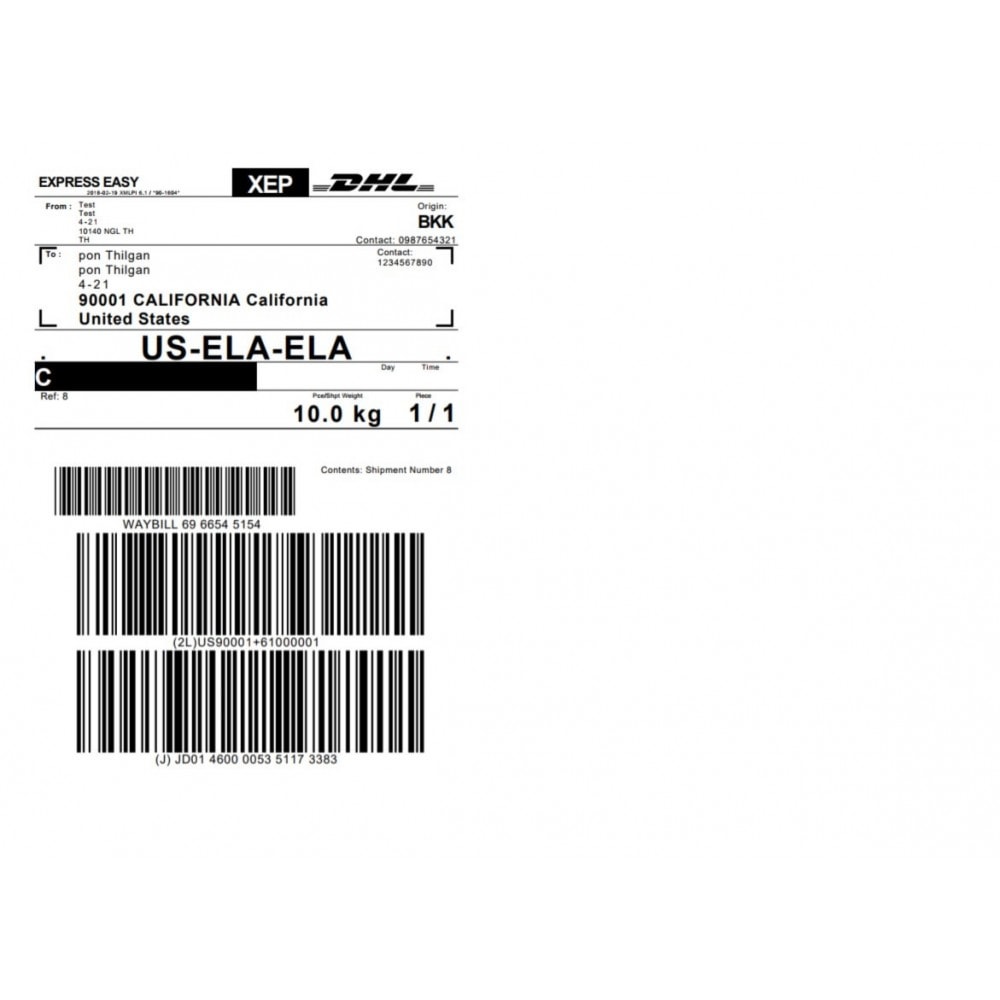 Commercial Invoice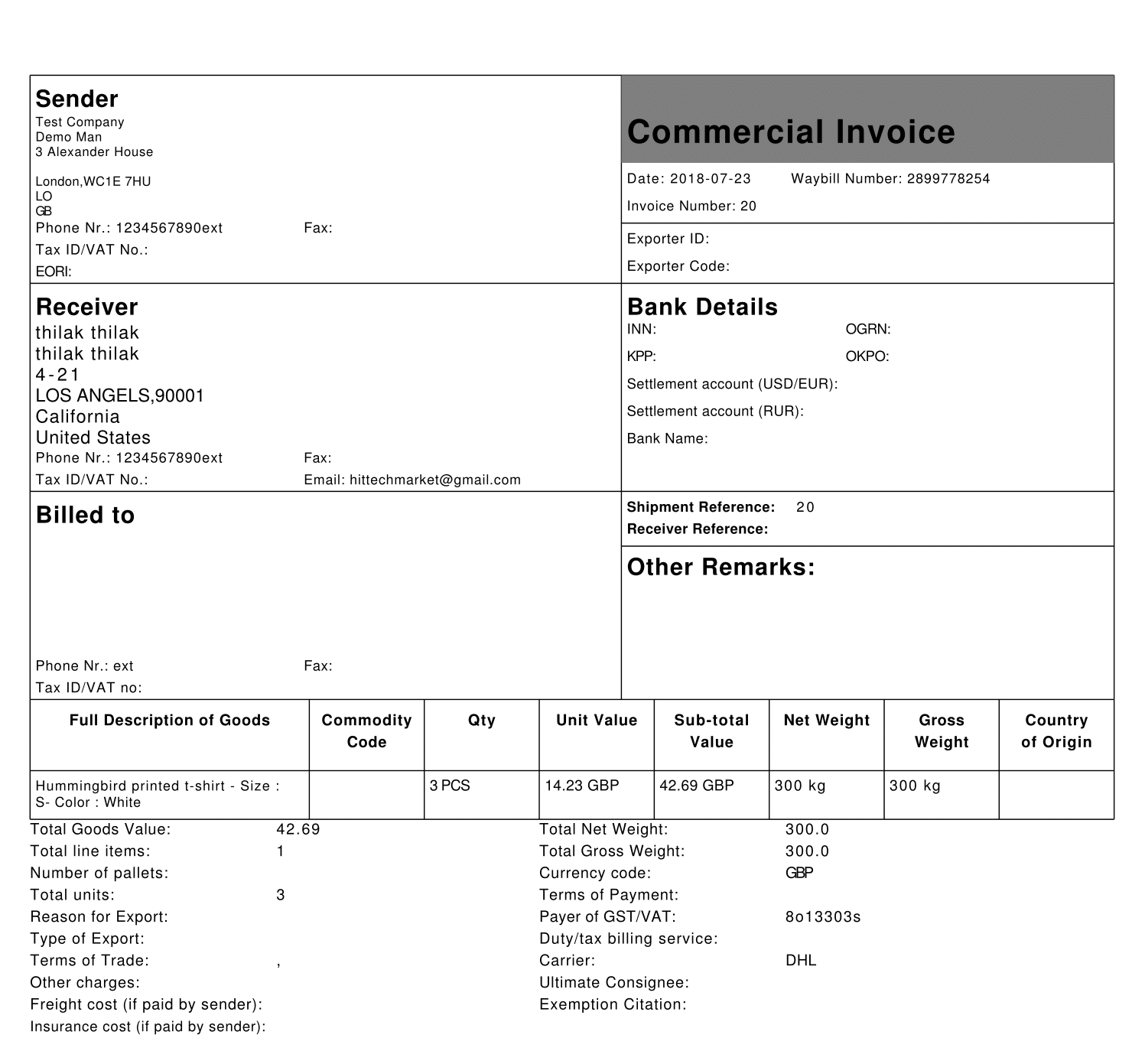 Order Page

(Click here) Live Demo Links are available here
(Click here) Premium Version
ABOUT DHL EXPRESS
DHL Express is a division of the German logistics company Deutsche Post DHL providing international courier, parcel and express mail services. Deutsche Post DHL is the world's largest logistics company operating around the world, particularly in sea and air mail.
The Deutsche Post AG, operating under the trade name Deutsche Post DHL Group, is a German postal service and international courier service company, the world's largest. The postal division delivers 59 million letters each day in Germany, making it Europe's largest such company. The Express division (DHL) provides services in 220 countries.
ABOUT HITTECHMARKET.COM
hittechmarket.com
creates quality opencart/PrestaShop modules/extensions that are easy to use and customize. We are proud to have thousands of customers actively using our service across the globe.
Илья –
25.08.2018

–

Хай. Не сразу понял как скачать файл, потом получилось, все нормально работает, интересно, а на другие версии подойдёт ? Советую.
Написать отзыв
---